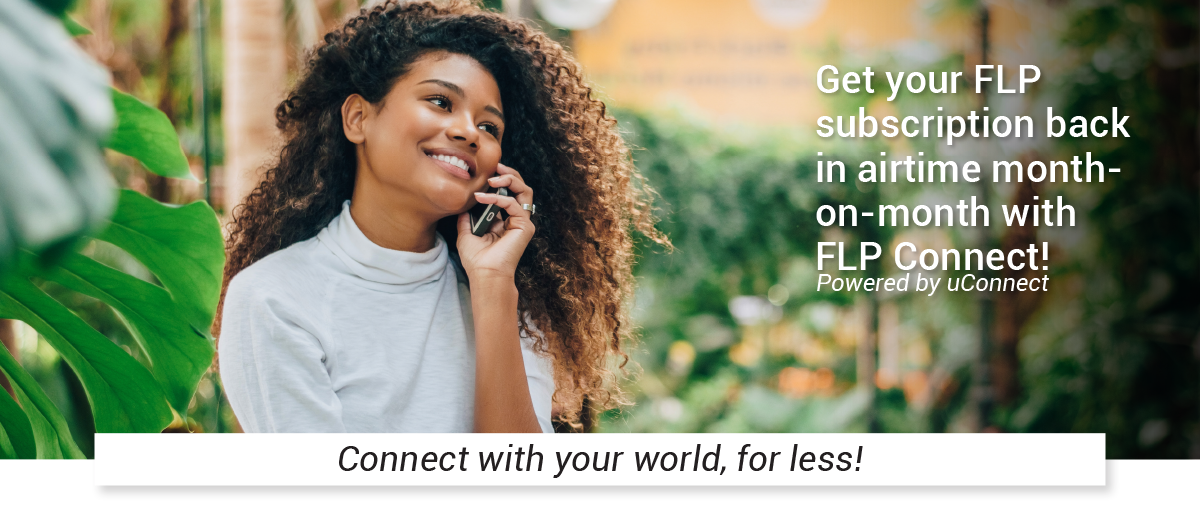 At FLP, we feel it's important that you connect to your world even better than before! Welcome to FLP Connect – an airtime perk "Powered by Uconnect" which means you get the value of your subscription back in airtime EVERY MONTH – now you'll have extra opportunities for longer and more quality connections with your circle of friends and family.


• Do you find that you always run out of airtime way too quickly?
• Are you paying way too much for airtime?
• Are you someone who engages with their world online every day?
Answered YES to any of these? Welcome to FLP Connect… "Powered by uConnect"

When you upgrade to FLP Connect - airtime is automatically sent to you upon successful payment of your monthly fees on the 1st of each month.
Get your money's worth back immediately!
Existing FLP members get the chance to upgrade to FLP Connect and pay a R249pm subscription to get R249 airtime every month PLUS all other FLP benefits. Yes, you read right! You get your subscription back in airtime month-on-month! All you need to do is upgrade from the R195pm to R249pm and voila! You will be FLP Connect-ed to living your best life!