Do life at up to 50% off while you earn REWARDS which in turn can be redeemed for a host of amazing lifestyle products such as luxury accommodation, spa treatments and an awesome selection of goodies from our store.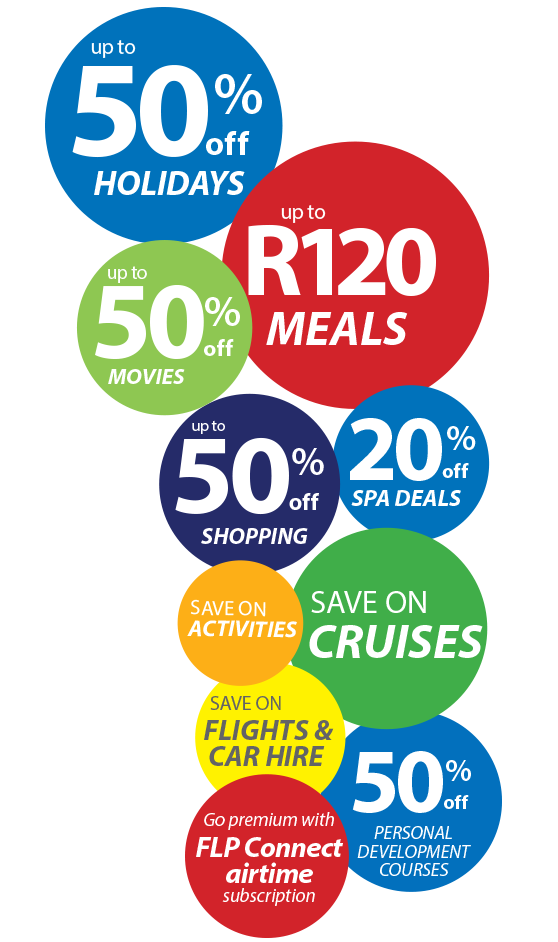 Save up to 50% on 500,000± hotels
Get up to R120 back on meals
Save up to 50% on movies
Save up to 50% on Regular cooldrink and popcorn combos
Shop up a storm online with loads of selected items at crazy prices

Get 20% off all standard spa treatments

Cruise to 5000 exotic destinations
Enjoy over 1 million exciting activities
Take flight to 210 countries - 5000 airlines
Cars for Hire at 9700 locations
Get 50% off Personal Development Courses
Go Premium with FLP Connect for only R249pm and receive R249pm in airtime
… WHILST EARNING REWARDS
Holidays
Members are guaranteed lowest prices on
500,000± resorts and hotels
around the world. Discounts of up to 50% will help you explore the world not forgetting loads of magnificient resorts around South Africa.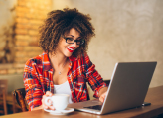 Personal Development
Engage in courses that can help you improve every aspect of your life – from bedroom to boardroom! FLP members get 50% OFF all courses! All you need to do is download the app to access your discount code, visit the
SkillsX website
and ta-daa! You're SuperSkilling yourself to live your best life!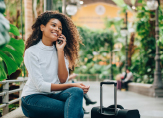 FLP Connect Powered by uConnect
FLP members can now upgrade to FLP Connect and pay a R249pm subscription to get R249 airtime every month PLUS all other FLP benefits. Yes! You get your subscription back in airtime month-on-month! All you need to do is upgrade from the R195pm to R249pm and you'll be FLP Connect-ed to living your best life!
Meals and Coffees
Check out the
dining page
for the list of over 2 000 restaurants around South Africa.
Every time you eat out, you get cashback up to R120 on your second most expensive main meal. That's not all! You also get to enjoy free coffee every time you buy one, at selected outlets countrywide. Powered by Crave.
Movies
Enjoy amazing discounts on movie tickets, as well as cooldrink and popcorn combos at Ster-Kinekor, Nu Metro and CineCentre cinemas. Check out the
movie page
.
Online Shopping
Shop
up a storm and enjoy up to 50% off amazing lifestyle products from fashion, electronics, designer jewellery, handbags, scarves and just about everything under the sun.
Spa
Relax and Rejuvenate at any of 21
La Vita Spas
countrywide. Get 20% off all standard spa treatments. PLUS members enjoy 1 full body massage voucher absolutely free every 12 months. From a wide range of single treatments any day of the week, La Vita spa guarantees you a great time. Take advantage of half and full day packages as well as overnight spa getaways.
Cruises
Cruise
the seas on 12 Premier cruise lines and 160 luxury cruise ships visiting 5000 exotic ports of call around the globe. Amazing itineraries and cabin options all at highly competitive prices.
Activities
Never be bored again! Over 1 million
activities
await, including hot air ballooning, skydiving, shark cage diving, bungee jumping and endless other options all brought to you at highly competitive rates.
Travel
Travel around the globe for pleasure or business on one of 5000
airlines
brought to you at highly competitive rates. Plus take advantage of the widest selection of competitively priced
car hire
, at 9700 locations around the world